The Genius of Children in Role-Play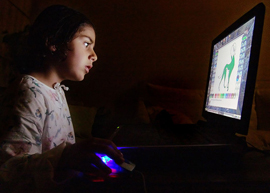 I, like millions of other people, have got a smartphone. In many ways it has changed my working life: I can respond to emails when they arrive, I can receive and respond to texts immediately, and I have access to the internet wherever there is coverage from my network. At first I was totally hooked: every time my phone made a buzzing noise I just had to look at it. Could it be someone sending me an important email? Maybe it was a text from a friend? Often it was just an email from a prince in a distant country inviting me to take part in a lucrative business proposition, or a ferry company or hotel chain reminding me of my chance to have 15% off their latest deal. Once I got over the novelty of the phone, I soon found it a bit irritating. I'm not hooked anymore, but I still can't resist the urge to look at it regularly… just in case.
Unfortunately, the millions of other people with smartphones may not have reached the same stage as me in their relationship with their handset. Maybe that's why everywhere you look at people –in cafes, pubs, supermarkets, in the street, on their bikes even, you will see them looking at their smartphones. Some of these millions of people attend my courses, and although I ask everyone to put their phones on silent, I know it must be difficult for them to resist a quick peek during workshop activities.
But I think I have seen everything now. I was sharing a storybook with a four- year-old boy recently. I was doing my best to make the story of The Gingerbread Man utterly gripping and memorable. Just as our biscuity hero  was about to meet his grisly fate in the mouth of the sly fox, the little boy reached into his pocket and  pulled out a small rectangular wooden block, looked at it, stabbed at it a few times with his finger, put it back in his pocket and then carried on listening to the story.
"What are you doing?" I asked.  "It's allright: I was listening, I was listening", was his reply. "I was just checking my emails."
There are two ways of looking at this little episode: either the world has finally gone mad, or this little boy is a brilliant role player. After I had got over my surprise, I realised that the little fellow was just doing what we hope all children will do: making sense of what he sees and experiences by acting it out in role play.
Children use role play to act out activities and routines that impress them, and in some cases confusing events that they are trying to make sense of. Very young children watch adults involved in daily activities around the home, and are attracted to the objects that mum and dad regularly use, and particularly if they have actions and noises associated with them. That's one possible reason why toddlers want to open and shut cupboard doors and drawers, play with the washing machine, open the bin and take everything out from under the sink. 'High status' objects such as Mum's mobile phone and the TV remote control are the most exciting, because children will have been told not to touch them!
As adults we know that role play is valuable for children's language development, social skills and to increase their knowledge and understanding of the world. We even set up special areas in our classrooms and settings so that children can engage in this valuable play. Perhaps, like me, you feel a little despondent when you see children in the home corner sitting in front of a cardboard box pretending they are watching TV, or role-playing catching up with their emails at a pretend computer. Surely they could be making cups of tea, cooking a dinner or doing the washing up?
I put this point to Judith Twani, an experienced teacher, early years advisor and provider of inspirational training, (what that woman can turn a cardboard box into is no one's business!) Judith does not think that this little boy's role play was a sign that parents these days spend too much time on phones, at the computer and generally ignoring their children. Judith opened my mind to the ways that we can encourage role play. Observe a group of children outside playing on the bikes. Yes, we can view this as an opportunity for physical development and for children to 'let off steam'. But look and listen more closely and you will observe that children are acting out what they see and know: filling up their cars with petrol ("No Michael," one boy told me, "It's not petrol. I'm driving a van, like my dad, and he puts in diesel".) They are making manoeuvres: "Beep, beep, beep! Watch out! I'm reversing my lorry"; talking with each other: "Wait there. Call me on your mobile and I'll pick you up in my taxi"; and even learning about car insurance: "You've just bashed my car. That's going to cost a fortune. It was your fault!"
So if you are reading this blog post on a smartphone, that's fine. If you are supposed to be listening to a speaker on a training course, get back to work!! The post will be there at the break. Just make sure you Tweet it to your friends, forward it by email and share it on Facebook…
Let's Get Talking! Exciting ways to help children with speech and language difficulties by Michael Jones & Jo Belsten is available from www.lawrenceeduational.co.uk. To find out about Judith Twani's inspirational training visit //www.talk4meaning.co.uk/talk4meaning-people/judith-twani/