Dreidel Template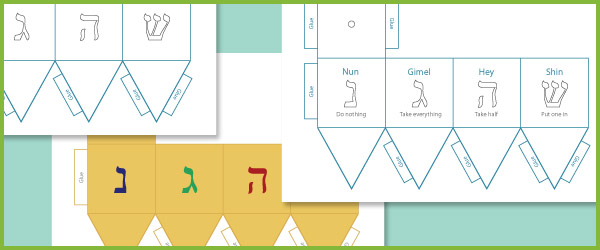 About This Primary Resource
A dreidel spinning top template, ideal to use during your Hanukkah celebrations. The four sides of the dreidel feature letters of the Hebrew alphabet: נ (Nun), ג (Gimel), ה (Hei) and ש (Shin). Together they form the acronym for Nes Gadol Hayah Sham which translates as "a great miracle happened there" (referring to the land of Israel). Dreidels are used during Hanukkah in a fun game involving a pot of gelt.

To use this template: - Print the pdf on to card (or print on paper and stick the page to cardboard).
- Cut out and glue the flaps into place.
- Push a stick or pencil through the circle to complete the spinner.

The pdf contains a black and white and colour version of the dreidel.
Resource Download Options