Diwali Teaching Resources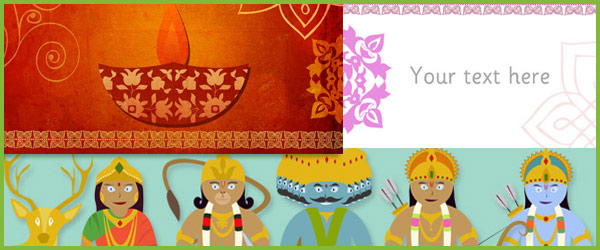 I know we're a little bit late in the day given that Diwali is already upon us (it's been a bit manic here at Early Learning HQ, hq) but I've just put a few new Diwali themed resources on to the site. So now in addition to the Diwali poster we designed last year we also have the following on site ready for you to download and use in your Diwali celebrations:
A document featuring images of the main characters from one of the Diwali legends. It contains images of  Rama, Sita, Ravana, Hanuman, Lakshmana and the golden deer. They are ideal to use as visual aid stick puppets when telling the children about the Diwali story (a brief synopsis of which is given below). They are put together as jpegs in a Microsoft Word document so they could be used to create any number of Diwali themed resources
We've put together 2 versions. The first is quite simple with a few rangoli patterns and a diya lamp while the second encorporates some of the characters mentioned above.
Background to Diwali
For those of you not too familiar with Diwali I thought I'd put together a brief bit of background…Diwali is a 5 day celebration known as the Festival of Lights. It occurs either in October or November and is primarily associated with the Hindu religion, although it is also celebrated by Sikhs and Jains. There are many mythological explanations for the story but it's underlying meaning is fairly consistent across all interpretations. It is generally accepted as being a celebration of light over darkness, good over evil and knowledge over ignorance. This is signified by the lighting of 'diya' lamps. For many Hindus these clay lamps are also used so that Lakshmi the goddess of wealth can find her way into individual homes. For the same reason windows and doors are often left open.
In addition to these rituals some other common activities during Diwali include:
–          Wearing new clothes
–          Cleaning the home
–          Firework displays
–          Preparing festive meals
–          Giving sweets as gifts to friends and family
–          Decorating buildings with lights
Of all the stories and legends associated with Diwali perhaps the most popular tells the story of the killing of the daemon Ravana and the return of Rama and Sita to the kingdom of Ayodhya after a long exile.   
Rama and Sita
Rama was prince of Ayodhya and was named as air to the throne by king Dasaratha. However the kings wife, Queen Kaikeyi wanted her son Bharata to be king so she demanded that Rama be sent in to exile in the jungle for 14 years.
The king was indebted to Queen Kaikeyi for saving his life in battle and as such felt he had no choice but to give in to her demand. He ordered the exile despite loving his son very much. Rama was joined in exile by his wife Sita and younger brother Lakshmana. Rama had ordered Sita not to travel with him, fearing for her safety. However, she rejects this order believing it to be her duty as a wife to be at Rama's side regardless of the dangers.
Rama reluctantly accepts his wife's presence and does his utmost to protect her. Despite his best efforts Sita is kidnapped by the daemon Ravana. They are separated for a long period of time and undergo great personal hardships. Sita remains convinced that it is Ramas duty to fight Ravana and rescue her to the point that she refuses to be rescued by Hanuman who finds her one day. Sita's premonition eventually comes  to pass. Rama finds Sita and slays Ravana to win her freedom. Surprisingly, when they are reunited Rama rejects Sita who is so distraught by this that she tries to kill herself by walking on to a pyre of flames. However, when she does so she is completely unharmed. Instead she emits a radiant glow which signifies er purity. Seeing this Rama runs to her and they embrace.
They begin their long journey back to Ayodhya where Rama is crowned King. On the journey back the people of Ayodhya put lamps outside their houses so that Rama and Sita could find their way.
When discussing Diwali in your early years setting you may find this clip from the BBCs Let's Celebrate programme quite useful: