Visual Timetable for Reception & KS1 with Editable Text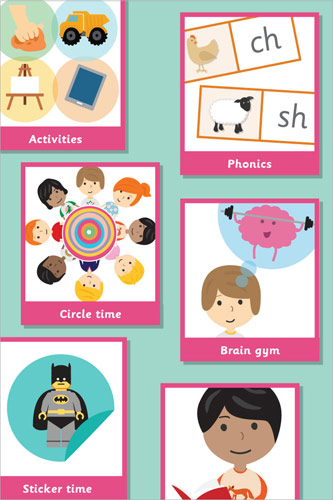 About This Primary Resource
This is an updated version of our very popular visual timetable. We thought it was time to give this resource a bit of a refresh so you will find new artwork and an even more extensive list of subjects, activities and areas of learning relevant to the EYFS & KS1. In fact this iteration of the visual timetable consists of 95 images. Not all will be relevant to your setting, just print out the ones that are and use as a way of helping children to understand and contemplate their school / nursery routine. It is designed for use with early years and KS1 children. It is also particularly useful resources in the context of Special Educational Needs (SEN).

It features editable text boxes so you can alter the wording of the activities or note whether it is a morning or afternoon activity or even add a time of day.

We've tried to make it as comprehensive as possible but if you would like us to add anything then please let us know. Please note it's a rather large file so when you open it in Word it might take a few seconds for the pictures to load.

You could also check out our Daily Routine Cards, Pupil Activity Cards and Outside Activity Cards. They are designed in the same size, style and colour scheme so could supplement the visual timetable.
Resource Download Options