Review of 'Max the Champion' – An Inclusive Storybook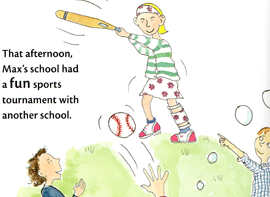 Do you remember a few years ago when there was a fashion for books about disabilities? They had snappy titles such as My Sister has a Visual Impairment.  You could be sure of finding them on the library shelf because they were not popular with young readers.  Then there was the 'books as therapy' genre.  These had straplines such as, 'a story for children who have Anger Management Issues'. They weren't best sellers either.
Those who work with children with disabilities or special needs – and that is just about every classroom teacher – have been looking for a story which is a cracking good read but features a child who happens to have a disability.  At last it is here: Max the Champion by Sean Stockdale and Alex Strick is brought to life with vivid, busy pictures drawn by Guardian cartoonist Ros Asquith.
Max is sports mad. Even his two favourite toys, a bunny and a tortoise, are dedicated fans. He could be described as being obsessive: even his still life painting features contains a nice collection of balls. It is at this point that the observant reader might notice that Max has a behind-the-ear hearing aid and that he needs to use an inhaler when he gets too excited. As you look through the book you realise that many of the characters have some form of disability. There are Makaton symbols on the classroom wall, a man out walking with his Guide dog, an old woman who needs a walking stick, a child with an oxygen tube.
For years we have expected that fiction will reflect the ethnic diversity of the UK but it still seems unusual to see children with special needs.  Max the Champion is an important landmark because it is a delightful picture book which reflects the range of disabilities in our communities.
Max also has his own website:  //www.maxthechampion.co.uk.  This has free resources including a colouring sheet, a reward stickers template, bookmarks and a lesson plan. There are also links to useful organisations for schools that want to explore some of the ideas in more depth.
Sean Stockdale, one of the authors, was an Advanced Skills Teacher of English in a former life. These days he works for NASEN (The national association for special educational needs) and is editor of their magazine Special. He hopes Max will spawn a whole generation of books which incorporate children with disabilities as a matter of course, 'We have all drawn of the experiences of friends, family and work colleagues to ensure that Max the Champion was as inclusive as possible,' he said. 'But this is only the start of the journey. There are still too few inclusive characters in children's stories.'
Max the Champion is a hardback book available from all good booksellers or from the publishers.