Creating an Alphabet with IMPACT!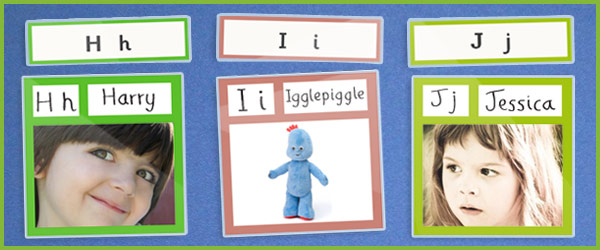 Children learn best when they are motivated and engaged by the subject that they are learning about. New information has a much greater chance of 'sticking' in their brain if they can understand it and link it to themselves.

Every child needs to learn their alphabet it is an essential skill for life. Their first encounter with an alphabet line is often when they start Pre-School, Nursery or Reception.



This alphabet has often been chosen by an adult because it looks attractive (to the adult). An apple, a ball, a cat, a dog…how sweet. HOW BORING! How many children do you think would choose those objects for their alphabet line? How many three year olds are highly motivated by an apple, or a ball? Not many (unless it is a football and that begin with 'f')!

Commercially produced and computer generated alphabets can be a great enhancement to support what you are doing with your children, but they should not be your first teaching strategy. So what do you do? Well, just think about what you know about what motivates young children to learn and what they are most interested in and that is…themselves! Do not have you're alphabet chart all up and ready when the children arrive. If you do they may well just see it as 'wallpaper' and they will see it, but they won't look at it.

Make your alphabet line WITH your children and ABOUT your children. If you have a child called Alfie then put an A4 size photograph of his face as your first box with a giant Aa underneath and then Bethany, then Caitlin and so on. What could be more motivating than seeing yourself and your peers pulling funny faces at you from the wall? That would make me want to look at the alphabet, talk about it, laugh at it and most important of all LEARN from it because it is ENGAGING.

I have yet to work with a setting that has a child who's name starts with every letter of the alphabet, so where you have a gap you ask the children what THEY are interested in. Don't ask the ones who know their alphabet – chose the ones that don't as they are your target audience! You might end up with Imogen or Iggle Piggle, Xavier or X-men but either way your children have ownership over the creation of their learning resources and will therefore want to use them again and again!

Alistair is an experienced early years consultant and former head teacher of an Infant School and Early Years Unit. For more useful hints and tips to engage, motivate and inspire children please visit his blog: abcdoes.