Early Years Bear Poems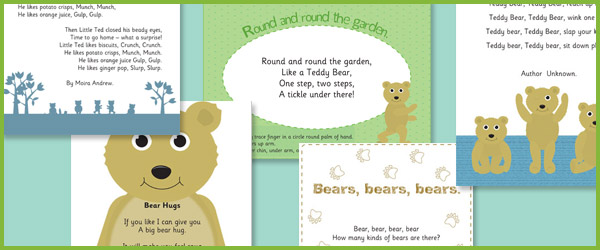 About This Primary Resource
A collection of 5 illustrated bear themed poems, ideal to recite in your school or early years setting. The download includes the following poems:

Bear Hugs Poem
A short poem about a bear who likes to give hugs, ideal for using as part of a bears or woods topic.

Bears, Bears, Bears
A catchy poem about the many different types of bear, perfect for using as part of your bears or woods topic.

Little Teds Picnic Poem
A short poem by Moira Andrews called Little Ted's Picnic, full of onomatopoeia and expressive language this is perfect for getting your pupils involved during circle time.

Teddy Bear Poem
A very catchy and popular early years poem.

Round and Round the Garden Like a Teddy Bear
Another classic early years poem.
Resource Download Options