Educational, creative storytelling kits: Pojo's Adventures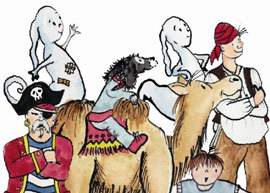 I met Pojo recently. He is a small dog puppet and was at the House of Lords with his creators Tonya Meers and Natasha Dennis. They are sisters and run an award winning company Little Creative Days which sells curriculum story telling kits to teach literacy and other subjects in a fun and memorable way.
Pojo has had an adventurous life. He was involved in the Gunpowder Plot, met the Knight of Chepstow Castle, popped over to Egypt in search of King Tut's lost treasure and saved the Rainforest. As you can see there is a lot of cross curriculum mileage in Pojo. Each kit contains a story book and, for KS2, a play script, as well as ideas for follow up activities, a pop up theatre for the children to decorate and all the materials to make puppets of the characters.
Collingbourne School in Wiltshire ran a whole school writing competition based on Pojo and the Chest of Dreams, a pirate story that builds knowledge of geography and compass points.
Jill Stevens, the Literacy Co-ordinator and Reception teacher, was delighted with the results. 'The puppets were so colourful and fun that the children engaged in 'Let's Pretend' enthusiastically,' she said. 'They particularly liked the fact that they had made them themselves rather being given a readymade set of figures.'
She found many benefits to using the kit. The children collaborated as they created scenery and stitched the puppets and while this was good for art and design skills, it also led to purposeful talking. When they came to write stories for the competition the children's descriptions and their awareness of how a character would behave were much more sophisticated than usual and Jill believes that this was because they had been totally engaged and had gleaned a lot from their discussions with others.
Little Creative Days is attracting considerable attention: they were finalists for the Education Resources Awards 2015, reached the finals of the supplier/innovator category award run by Nursery Management Today magazine, won a Silver Primary Teacher Update award and won a Creative Play award for teaching resources for 4-7 year olds.
Pojo left the Houses of Parliament intact after his recent visit and will be setting out on new adventures any day now.
//www.littlecreativedays.co.uk/
This article was written by Sal McKeown: a freelance journalist with a particular interest in special needs www.sallymckeown.co.uk.