Jungle Themed Activity Ideas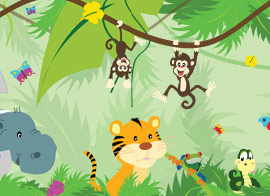 The jungle is always a very popular early years topic and there are lots of different crafts activities, songs, games and recipes that you can incorporate into this theme. Below are a few ideas to get you started from the ELHQ site and also from Pintrest, please let me know if you can think of any more!
–    Start by decorating your setting with this colourful display banner and poster, and then try making some jungle animals to really complete the theme. You could try making a hungry crocodile puppet or an elephant pen holder. There are also lots of brilliant ideas on Pintrest to try.
–    Once you've decorated the room, why not try some role-play with these jungle masks. You can imagine what would happen if different animals met each other in the jungle and what they would say, would they be friendly? Or would they be frightened and run away?
–    There is always lots of noise in the jungle, so see how many different animal sounds you can make and who can do the best impression. You can listen to all the sounds of the jungle here for free. You could also try learning these poems about monkeys and elephants and learn all the actions.
–    You might get hungry on your journey through the jungle, so try making some jungle themed party food to have as a snack.
–    Take a look at our jungle and elephant themed book lists for ideas for story time, and our jungle topic plan to help you carry on the theme!
If you have any other jungle themed activity ideas or recipes then please do not hesitate to get in touch.