Visual Timetable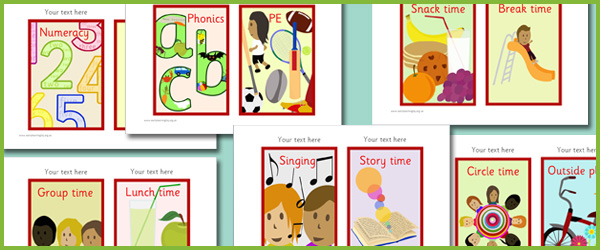 About This Primary Resource
This is an editable visual timetable ideal to use in your school or early years setting. A visual timetable is an excellent way of providing structure and helping children understand their daily routine.

This resource features picture cards representing the following activities: Lunch time, snack time, break time, outside play, story time, circle time, group time, choosing, numeracy, phonics, tidy up time, carpet time, cooking, art, handwriting, history, home time, ICT, RE, science, brain gym, literacy, assembly, golden time, activities, mental math, registration, French, Welsh, dance, drama, DT, swimming, geography.

*Updated Aug 2014 to include: outdoor learning, German, forest school, music, health, sticker time, trips out, library, gardening, fruit time and prayer.

Please note, it is a Word document and we have put a text box above each picture so that you can change the title or type the time of day that each activity takes place. If you would like us to add a particular activity to the visual timetable please get in touch.
Resource Download Options