Phonic Alien Adventure iOS app released!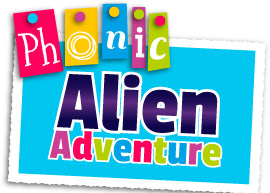 Some of you may have noticed that it's been a little quiet on the site recently. We have a huge backlog of resources which we will look to add to the site over the next few weeks and months. However, our attention has to a large degree been on the various iOS apps that we're currently developing. I'm pleased to announce that our 3rd app – Phonic Alien Adventure has been released today!
As the name suggests it's a game designed to develop phonic awareness featuring a fun alien species.
The aim of the game is to complete the word on the screen by selecting the correct missing phoneme and help the aliens learn more about planet Earth. The game has 5 levels that gradually increase in difficulty with longer words and more missing phonemes.
Find out more by visiting our apps section: //www.earlylearninghq.org.uk/apps/phonic-alien-adventure/
You can download it for free form the app store:
– iPad version
– iPhone version
We're always keen to get feedback on any of our apps, so please get in touch to let us know what you think!