Summer games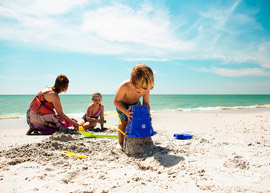 Summer is here. School holidays are beginning and, for fortunate children, there may be beaches in the offing or trips to the park. I think it should be a time of maximum fun with as many games and as much laughter as there can possibly be. 
Over the last few weeks, when writing my regular Storytelling Starters blog, I've been sharing storytelling games that are good fun to do. One involves you in drawing what ends up as a very simple picture of a cat. The story you tell as you make the drawing is about a flea's adventure. For of course, a favourite place for a flea to be is on a cat, as we know to our cost in my household.
Another posting has involved the storytellers' story of The Captain's T-shirt. You fold a paper into a boat, tear off the ends and the top of the boat as it crashes in a storm in the story, then end up with what remains of the boat on the floor. Then as you open out what's left of your folded paper, everyone can see it has taken on the shape of a T-shirt. 'Oh dear,' you can say in an exaggeratedly doleful voice, 'it must be all that remains of the captain!'
Then I thought about the Alphabet Games we used to play as kids in the caravan we used to go to at Wiseman's Bridge at Saundersfoot. What jolly japes we had there – making ball-tracks down the sand-dunes that no longer exist or playing for hour after hour on the huge wide beach. At night in the caravan or when it was raining, we used to sing. Raucously, quite probably. And as I say in my blog posting, it must have driven my mother mad.
One of the songs we used to sing was the old Scout number, Ging Gang Gooly. You can easily find it on Wikipedia and Youtube. It was apparently made up by Baden-Powell during the First World War and he created it in gibberish so it could be sung by children all over the world without any problems over language. In the caravan, we used to sing it over and over as we went through the Alphabet, changing it each different time so that all the words of the song began with whatever letter we chose. It became Bing Bang Booly. Or Wing Wang Wooly. Or Zing Zang Zooly. Daft but the greatest possible fun. And, I suppose, educational too. It certainly reflected my own lifelong passion for language and song and sound.
Happy holidays.