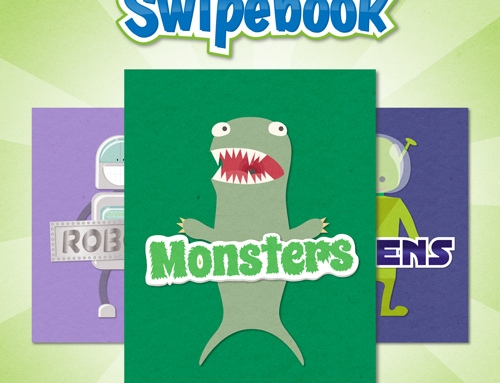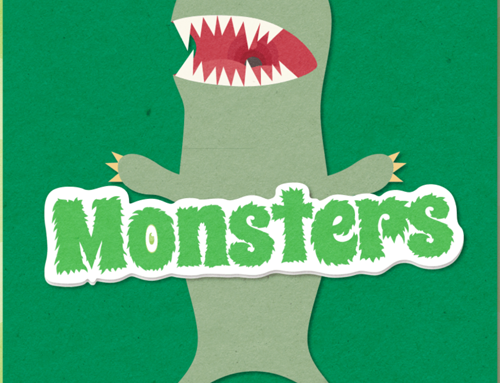 Preschool Swipebook is a fun game designed to engage and entertain young children whilst developing their gross motor skills and their ability to recognise shapes and patterns.
The aim of the game is to successfully match up the three body parts of each character by swiping the sections into focus. Once the player has successfully lined up the body parts an animation plays of the character doing a funny dance.
It consists of 8 levels (the first of which is free) based around the following themes:
- Monsters
- Pirates
- Jungle animals
- People who help us
- Farm animals
- Robots
- Aliens
- Dinosaurs
Each level has its own unique characters, music and animations.
Children will enjoy swiping through the character sets and experimenting with different body combinations. The simplicity of the swiping motion is very rewarding and as such the game is suitable to use with pre-school children. However, some of the levels require more advanced observation skills to line up the characters correctly, making it equally enjoyable for an older audience.
It is now available to download on the App Store.
iPhone Version:  
https://itunes.apple.com/us/app/preschool-swipebook/id777115221?ls=1&mt=8
iPad version: 
https://itunes.apple.com/us/app/preschool-swipebook-for-ipad/id766584191?ls=1&mt=8
What is the difference between the levels?
Each level uses the same format, however the characters, backdrop, animations and music change each time. Some of the levels are more difficult than others, for example during testing our participants found that the Pirates were more difficult to match up than the Jungle Animals.
What is the educational value of Preschool Swipebook?
This app is intended to provide a fun and diverting activity for children aged between 4 and 7.
How do I install the Preschool Swipebook app?
You can download the free version of Swipebook from the Apple iTunes store. This app is currently only available for iPhone and iPad users, but we hope to make it available on other platforms such as Android and Windows.
How do I install the other levels?
Level 1 of Preschool Swipebook is available for free, after that you can purchase the other 7 levels for a one off fee. You can do this by pressing the 'upgrade' button on the menu screen or by tapping one of the other levels.
This will take you to the iTunes Store where you can log in with your Apple ID and purchase the remaining levels.
How can I prevent my children from making in-app purchases without permission?
Apple devices have parental control restrictions that can prevent in-app purchases, to activate these go to settings --> general --> restrictions --> in-app purchases.
I have accidentally deleted by app, do I have to purchase it again?
You Apple account will remember all the apps that you have purchased. You can restore your previously purchased in-app purchases by clicking the restore button on the game's info page.
The app keeps crashing, what can I do?
Try uninstalling the app and re-installing it. If you are still having problems then try contacting Apple directly through your Apple account.
If we haven't answered your question here then please don't hesitate to get in touch.
Watch the preview video
Coming soon